Dear SmartNav Community,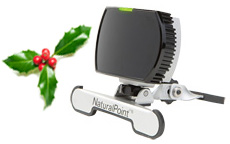 Holiday Special: Free Domestic Shipping + Upgrade Discount
Hurry - December Only!

NaturalPoint continues to offer a SmartNav 4 upgrade discount to all previous SmartNav customers. If you have not received your upgrade discount, now is the time. All upgrades purchased in December will receive Free Domestic Shipping. Contact us with your serial number and we will present a price quote.

ATIA: Visit SmartNav in Orlando, Florida


As the Assistive Technology Industry Association celebrates 10 years of service, the 2009 conference offers more education, networking opportunities and products being demonstrated. Visit NaturalPoint at ATIA in Orlando January 28 - 31. Receive a SmartNav 4 demonstration in booth #822. Learn more about registering for ATIA 2009.

SmartNav Tip: Finding Your Center Point

SmartNav's unique software offers two methods for users to find a center point, or position the cursor. The relationship between a user's head position and the location of the cursor can be changed by using either Absolute or Relative Mode.
These settings can be found under the Movement tab in your SmartNav software.

The Absolute option allows a fixed relationship to be set between the location of the user's head and the cursor position. The user establishes a center point on the screen and then presses the CENTER Hotkey (F12 by default), to set the position. Once the position is set, abrupt head movements will not cause the center point to be lost. Absolute mode can be helpful for people with limited head movement.

The Relative option positions the cursor in a similar method as a traditional mouse, by bouncing the cursor against the edges of the screen. While using Relative Mode, the cursor can be brought to center by pressing the CENTER Hotkey.

Try both positioning options on your SmartNav to determine which is best for you.

SmartNav 4 Testimonials

NaturalPoint would like to thank our customers who have shared their SmartNav feedback over the years. These experiences are valuable as we continue to improve our products. Since the new version was released in January, customers have shared their unique SmartNav 4 applications and success stories. Check out the SmartNav 4 testimonials below and read more on our website.


"I am an ALS patient. Three days of training were enough to do all that I need on the computer with my new SmartNav4:AT. Just a single word about my SmartNav4:AT: fantastic!" – Customer from Brazil (August 2008)

"I am a quadriplegic with only the ability to move my head. Next to my wife, my computer is my life. I use Dragons Naturally Speaking to give my voice access to the world but it is SmartNav that gets me there. That little spot on my glasses means the world to me." – Customer from Canada (February 2008)

"I have several of your previous hands free mice. A couple of months ago I bought a SmartNav 4, and just now sat down to explore it. Let me say WOW! You folks have really been hard at work. I am very pleased with its accuracy, adjustability and stability. I also enjoyed the thought that went into your dwell clicking. Thanks to one and all." – United States (August 2008)

If you have news or an event you think the SmartNav community would like to hear about, email us.

Happy Holidays,


The NaturalPoint Team

NaturalPoint Inc.
888.865.5535
Fax: 541.753.6689
www.naturalpoint.com


---



(SmartNav Newsletter #12)


This email was sent to because you asked to receive updates and promotions from NaturalPoint.com, downloaded our software, participated in a sponsored event, or purchased one of our products. Your email will not be shared with any third parties. This is a privately managed newsletter from NaturalPoint Inc.

This email is a presentation of NaturalPoint Inc. P.O. Box 2317, Corvallis, OR 97339. All contents are TM and Copyright 2008 NaturalPoint. All rights reserved.

If you have any comments about this newsletter, or ideas about things you want to see, please send them to newsletter@naturalpoint.com. Emails to this address may not be responded to, but we will read them all!

To unsubscribe from the NaturalPoint Announcement Newsletter: please use the update my profile service.

If you have any questions about NaturalPoint's Online Privacy Policy, please check our website.